OUR PRACTICE
Dr. McClain and the entire staff at Family Vision Care are thankful for the opportunity to take part in your family's eye care needs. We recognize you have a choice for your eye care needs and are committed to exceeding all your expectations.
Dr. Jeffrey C. McClain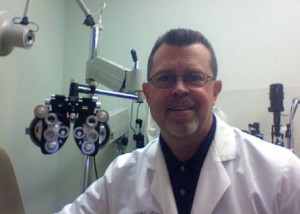 Dr. Jeffrey C. McClain takes pride in providing the one-on-one interactions required to solve eye health and vision problems and enjoys caring for the patients in Murfreesboro, TN and surrounding communities. He prides himself in engaging his patients in a thorough explanation of their problems. Dr. McClain holds a BS in Mathematics from David Lipscomb College, and graduated with honors and Outstanding Clinician awards from Southern College of Optometry in Memphis, Tn. He is the MTSU Athletics Vision Specialist and enjoys supporting the Blue Raiders in all sports. An old collegiate golfer himself, Dr. McClain enjoys playing golf occasionally, working in his yard, running various 5K and half marathons, and teaching 9th grade class at his church and serving in Youth Missions. He and his wife Joy have 3 grown children as well. Of course, now that he is a grandparent (2 boys and a girl on the way in 2015) he loves spending time with them. (and bragging on them as well)
OUR STAFF
Trish
When our patients call the office, check in for their appointments, or to have contacts ordered, Trish always welcomes them will a smile and a cheerful hello. Having been with Dr. McClain for 11 years, Trish was the front desk specialist but has now turned this over to another employee. She now has stepped into the role of insurance filing and billing. She still works with our contact lens patients and keeps up with the latest contact lens trends and technology to give patients the best results. After spending a day at the office, Trish enjoys her grandchildren, serving her church, World Outreach, in several different ways, seeing her two daughters, and spending time with her husband. She also enjoys running, being active, and is very creative.
Penny
Our Optometric Technician Penny is highly trained and very knowledgeable in her field. With many years of experience, over 9 years of those being here at Family Vision Care, Penny enjoys helping patients see and feel better. Skilled on the most current equipment and procedures, patients can rest assured that during the pretesting parts of their exam, we are able to get the most accurate measurements possible. Penny has two children who are very active in the area of music and she also spends time with her husband and dog. She and her family attend Kingwood Church of Christ.
Eva
Eva joined Family Vision Care in March of 2014 and primarily works as an optician. She offers a unique sense of style and flair along with a great knowledge of lenses and information. She has a broad knowledge of contact lenses and can also be seen helping with contact lens trainings and her friendly warm personality makes her a natural at helping people. A Rockvale native, she has grown up around this area and loves being around people that she knows and can call family. She loves spending time with her family and friends. Eva is a member of The Experience Community.
Leshelle
Leshelle joined our practice in 2014 to handle the front desk duties since Linda Stem retired and Tricia moved to Linda's old job. She comes with a wealth of personal strengths and public communication. She can cut hair, file your taxes, and use her Registered Financial Services certification to help you with investments. None of which is what she can do for you here, but all of which make her an intelligent and resourceful person who can handle lots of questions. (we haven't asked her for any haircuts yet, by the way) Her multitasking skills are comparable to her warm friendliness to our patients. She is married and has lived here for many years.
Office Hours
Friday
By Appointment Only

*Closed from 12:00pm-1:00pm daily for lunch